California State Route 99
Edit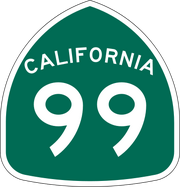 State highways in California(list • pre-1964) History • Unconstructed • Deleted • Freeway • Scenic
|} [[]]EnlargeFacing north from Skyway on State Route 99 in Chico. Butte College is visible on the right.California State Route 99 (SR 99), commonly known as Highway 99 or, simply, as 99 (without any further designation), is a north–south state highway in the U.S. state of California, stretching almost the entire length of the Central Valley. From its southern end at I-5 near Wheeler Ridge to its northern end at State Route 36 near Red Bluff, SR 99 goes through the densely-populated eastern parts of the valley. Cities served include Bakersfield, Visalia, Fresno, Madera, Merced, Modesto, Stockton, Sacramento, Yuba City, and Chico.
Almost all of SR 99 south of Sacramento is a freeway, and there are plans to complete this part to Interstate Highway standards, as a parallel route to I-5 for Los Angeles–Sacramento traffic. North of Sacramento, the road ranges from a rural two-lane road to a four-lane freeway.
Route description
Edit
This route is part of the California Freeway and Expressway System.[[|[2]]]
From its southern terminus at I-5 in Wheeler Ridge to Sacramento, Route 99 passes through the major cities of the San Joaquin Valley, including Bakersfield, Tulare, Visalia, Fresno, Madera, Merced, Modesto, and Stockton. A majority of this segment is built to freeway standards, However, there are portions that are a four-lane divided highway, including the section near Merced that has two at-grade intersections.
The freeway sections connect and serve the numerous small cities—and large urban centers as well—that mostly support the agriculture and industry of the California Central Valley. These segments provide a fast medium-distance haulage route connecting agricultural production with related processing and packing businesses. Most of the freeway also parallels the Union Pacific's Fresno Subdivision.
In Sacramento, Highway 99 first joins with Interstate 80 Business as part of the Capital City Freeway, then runs concurrent with I-5. These SR 99 concurrences are not officially designated by Caltrans, but mapmakers often show it as such. SR 99 signage had existed along that route for motorists' convenience, but was removed in 2000, and replaced by TO SR 99 signs instead.
Highway 99 then splits from I-5 in Northern Sacramento, and then heads along the eastern segment of the Sacramento Valley through Yuba City, and Chico to its northern terminus at Route 36 near Red Bluff. Most of Highway 99 from Sacramento to Red Bluff is a two-lane highway, except for the parts in Yuba City and Chico that are built to freeway standards.
From initial construction to U.S. Route 99 Main article: U.S. Route 99The first state highway bond issue, approved by the state's voters in 1910, included a north–south highway through the central part of the state consisting of Route 3 through the Sacramento Valley from the Oregon state line south to Sacramento, replacing the Siskiyou Trail, and Route 4 through the San Joaquin Valley from Sacramento to Los Angeles. In addition, a second route followed the west side of the Sacramento Valley, using Route 7 from Red Bluff south to Davis and the short Route 8 east along the proposed Yolo Causeway to Sacramento. North of Bakersfield these closely paralleled some of the main lines of the Southern Pacific Railroad, including the Fresno Line, East and West Valley lines, Shasta Line and Siskiyou Line.
By 1920 paving of both routes from Red Bluff to Los Angeles was completed or in progress, including the only mountain crossing south of Red Bluff, the Ridge Route just north of Los Angeles. To the north of Red Bluff, the road was being graded but not paved over the Siskiyou Mountains into Oregon.[[|[3]]] Paving was finally completed in mid-1933, when a new alignment (now SR 263) opened through the Shasta River Canyon.[[|[4]]]
The route from Davis to Oregon via Routes 7 and 3 came to be known as part of the Pacific Highway,[[|[5]]][[|[6]]] an auto trail organized in 1910 to connect Canada and Mexico.[[|[7]]] The split in the Sacramento Valley was known as the East and West Side highways (the latter also carrying the Pacific Highway).[[|[8]]] South of Sacramento Route 4 was the Valley Route, but the San Joaquin Valley Tourist and Travel Association held a contest to rename it, selecting Golden State Highway as the winning entry in July 1927.[[|[9]]][[|[10]]]
This north–south central highway became part of U.S. Route 99 in 1926, as part of the new U.S. Highway system developed by the American Association of State Highway Officials (AASHO),[[|[11]]] though signs were not posted in California until 1928.[[|[12]]][[|[13]]] US 99 also continued southeast from Los Angeles along a paved state highway, Route 9 and 26, to US 80 in El Centro.[[|[14]]] The paved county road south from El Centro to the Mexican border became a state highway in mid-1931,[[|[15]]] and part of US 99 in mid-1932.[[|[16]]]
In mid-1929, AASHO approved a split designation between Sacramento and Red Bluff, with US 99W replacing the original western route via Davis, and US 99E following the East Side Highway (Route 3) via Roseville.[[|[17]]] A short-lived split also existed between Manteca and Stockton in the early 1930s, with US 99E becoming the main route and US 99W becoming an extended SR 120 where not concurrent with US 50.[citation needed]
A third highway heading north from Sacramento was constructed by the Natomas Company in the 1910s for 13 miles (21 km) along the Sacramento River levee in order to provide access to land reclaimed and sold by the company. Sacramento and Sutter counties continued the road alongside the Sacramento River and Feather River to Nicolaus, where an existing county road crossed the river on a drawbridge and ran north to the East Side Highway at Yuba City.[[|[18]]] This continuous roadway between Sacramento and Yuba City was dedicated in October 1924 as the Garden Highway.[[|[19]]]
Parts of the present SR 99 alignment between Sacramento and Yuba City were added to the state highway system in 1933, when the legislature added Route 87 (Sign Route 24,[[|[20]]] later U.S. Route 40 Alternate) from Woodland north past Yuba City to northwest of Oroville,[[|[21]]] and in 1949, with the creation of Route 232 (later Sign Route 24) between Sacramento and Marysville.[[|[22]]] The final piece became Route 245 (no signed number) in 1959, connecting Route 232 near Catlett with Route 87 near Tudor,[[|[23]]] and following the old Garden Highway across the Feather River to a point east of Tudor. Despite this combined route connecting the same cities as the Garden Highway, the only other piece of the old county road taken for the state highway was a short segment just north of Sacramento, carrying Route 232 between Jibboom Street and El Centro Road.[[|[24]]]
As California State Route 99
Edit
See also: State Route 86 (Mexico to Indio), Interstate 10 (Indio to Los Angeles), State Route 65 (Roseville to Yuba City), and Interstate 5 (Woodland to Oregon)The implementation of the Interstate Highway System and the mid-1964 state highway renumbering ultimately sealed the fate of the federal designation of Route 99. The Interstates eventually replaced portions of Route 99, causing it to be truncated at both of its ends. Since the remnant did not cross state lines, it was not allowed to keep its federal highway status.[citation needed]
When the Interstate System was being planned in 1950s, there were two proposals on which way to route the Interstate through the San Joaquin Valley. One was to upgrade U.S. Route 99 to Interstate standards. The other alternative to build the proposed Westside Freeway, which would bypass all the Central Valley communities and thus provide a faster and more direct north-south route through the state. The latter route, which eventually became Interstate 5, was ultimately chosen.
Route 99 was also truncated to Los Angeles, with the old route south to Mexico becoming mainly Interstate 10 and State Route 86. At the same time Route 99 was defined legislatively to run from I-5 near Wheeler Ridge to Red Bluff, but it was only marked as State Route 99 between Sacramento and Yuba City, since the remainder was still US 99 or US 99E.[[|[25]]] The south end of US 99 was moved further north to Sacramento in late 1966 and SR 99 was extended to Wheeler Ridge; the rest of former US 99 to Los Angeles was either I-5 or the locally maintained San Fernando Road.[[|[26]]][[|[27]]] Several years later US 99 and its branches were removed altogether from California, making SR 99 signage match the legislative definition; all of US 99W, and US 99 north of Red Bluff, remained as other routes (I-80, SR 113, and I-5), while US 99E between Roseville and Marysville became SR 65.[citation needed]
By 1968, all US 99 signs were removed or replaced with SR 99 signs following the completion of I-5. Many of the older highway signs in the southbound lanes of SR 99 still display a control city of Los Angeles, even though SR 99 no longer runs through that city. Caltrans also patched the US 99 shield with the SR 99 shield in many of the highway signs. The most prominent example is the Atwater exit in either direction, on which is clearly visible the old US shield outline underneath the newer spade. Other, better-covered examples are in Tulare (J Street exit) and Merced, where one has to look carefully to note the square green patch.
The current long-term goal is to upgrade Route 99 into a six-lane freeway (three in each direction) from Wheeler Ridge to Sacramento. Work to widen Route 99 between Selma and Kingsburg from four to six lanes began on December 21, 2005 and was completed in late 2007. In late 2007 a project began to upgrade an expressway stretch north of Madera to freeway status. From 2010, Route 99 will be widened from four to six lanes from Kingsburg to Goshen. In 2012, this will extend southward from Goshen to Tulare.
Highway 99 is commonly called "The Main Street of California."[citation needed]
It is mentioned in John Steinbeck's The Grapes of Wrath as the main road used by the Joad family during their travels through California.
The 5-mile (8.0 km) segment of Route 99 south of its intersection with Route 70 in Sutter County is named the Bernie Richter Memorial Highway.
The part of State Highway Route 99 consisting of the four-lane expressway between the Edgar Slough south of Chico (Bridge No. 12128) and the Pentz Road overcrossing (Postmile 24.2) is officially designated as the Ray E. Johnson Expressway.
Recently, it has been recommended that Route 99 be upgraded to Interstate Highway standards between its southern end and Stockton (or Sacramento), which would require upgrading some substandard sections and eliminating the last at-grade intersections. Caltrans has recommended Interstate 9 as the designation of the route, although Interstate 7 is a possibility, given the route's proximity to Interstate 5.[[|[28]]]
Exit list
Edit
Note: Except where prefixed with a letter, postmiles were measured in 1964, based on the alignment as it existed at that time, and do not necessarily reflect current mileage. The numbers reset at county lines; the start and end postmiles in each county are given in the county column.
County
Location
Postmile

[[|[29]]][[|[30]]][[|[31]]]

Exit

[[|[32]]][[|[33]]]

Destinations
Notes
Kern

KER L0.75-57.58

L0.75
I-5 south (Golden State Freeway) – Los Angeles
Southbound exit and northbound entrance; former US 99 south
Mettler
2.73
3
SR 166 (Maricopa Highway) – Taft, Maricopa, Santa Maria
4
Mettler
Southbound exit and entrance
5.34
5
David Road, Copus Road
7.29
7
Sandrini Road
9.30
9
Herring Road
10.93
11
Union Avenue (SR 99 Bus. north) – Greenfield
Northbound exit and southbound entrance; former US 99 north
13.41
13
SR 223 (Bear Mountain Boulevard) – Arvin
15.43
15
Houghton Road
17.50
18
SR 119 west (Taft Highway) – Taft, Lamont
Former US 399
19.54
20
Panama Lane
Bakersfield
21.08
21
White Lane
22.60
23
Ming Avenue
23.51
24
SR 58 east – Tehachapi, Mojave
South end of SR 58 overlap
23.62
24
Stockdale Highway, Brundage Lane
Former SR 204
24.60
25
California Avenue – Civic Center
25.65
26A
SR 58 west (Rosedale Highway) / SR 178 east (24th Street) – Downtown Bakersfield
North end of SR 58 overlap; signed as exit 26 southbound; No northbound entrance
26B
Buck Owens Boulevard
Northbound exit and entrance
26.78
27
Airport Drive – Oildale
Northbound exit and southbound entrance; serves Meadows Field Airport
27.05
27
SR 204 (Golden State Avenue, SR 99 Bus. south) – Bakersfield
Southbound exit and northbound entrance; former US 99 south / US 466 east
27.87
28
Olive Drive
R28.56
29
Norris Road – Oildale
Southbound exit and northbound entrance
R29.88
30
SR 65 north – Porterville, Sequoia National Park
Northbound exit and southbound entrance
R30.53
31
7th Standard Road, Merle Haggard Drive
Cawelo
36.52
37
Lerdo Highway – Shafter
R39.12
39
Merced Avenue
R41.16
41
Kimberlina Road
44.31
44
SR 46 (Paso Robles Highway) – Wasco, Paso Robles
Former US 466 west
R47.37
47
Whisler Road
McFarland
49.30
49
Sherwood Avenue – McFarland
No northbound entrance
49.95-

50.41

50
Perkins Avenue, Elmo Highway – McFarland
52.45
52
Pond Road
Delano
54.48
54
Woollomes Avenue – Delano (SR 99 Bus. north)
55.52
55
First Avenue
Northbound exit and southbound entrance
55.52
56A
SR 155 east – Alta Sierra, Glennville
Signed as exit 56 northbound
56.10
56B
Central Delano (11th Avenue)
Northbound exit is via exit 56
56.54
57
Cecil Avenue
Southbound entrance is via exit 56B
57.58
58
County Line Road – Delano (SR 99 Bus. south)
Tulare

TUL 0.00-R53.94

60
Avenue 16
Southbound exit and entrance
3.06
61
Avenue 24
No southbound entrance
Earlimart
6.15
64
Avenue 48 – Earlimart
7.17
65A
Avenue 56 (CR J22) – Ducor, Alpaugh
Signed as exit 65 northbound; former Legislative Route 135
65B
Alpaugh (Front Street)
Southbound exit only
9.71
67
Avenue 72, Avenue 76
Signed as Avenue 72 southbound
68
Avenue 80, Avenue 76
Southbound exit and northbound entrance
Pixley
12.30
70A
Avenue 96 (CR J24) – Pixley, Terra Bella
12.80
70B
Court Street
No southbound entrance; northbound entrance is via exit 71
70C
Pixley (Main Street)
Southbound exit only
13.33
71
Road 124
Northbound exit and entrance
15.37
73
Avenue 120
Tipton
18.43
76
SR 190 – Tipton, Porterville, Springville
19.46
77
Avenue 152 (CR J26) – Tipton
23.49
81
Avenue 184
25.43
83
Avenue 200
26.05
K Street
Closed; former northbound left exit
Tulare
27.60
85
Paige Avenue
28.61
86
Bardsley Avenue
29.57
87
SR 137 (Tulare Avenue)
30.58
88
Hillman Street, Prosperity Avenue, Blackstone Street
31.85
89
M Street, Cartmill Avenue
Northbound entrance is via exit 90
90
Oaks Street
Northbound exit and entrance
33.22
91
J Street – Tulare
No northbound exit
33.94
92
Avenue 260, Avenue 264
36.41
94
Avenue 280, Caldwell Avenue
Visalia
R38.75
97
SR 198 (Sequoia Freeway) – Visalia, Sequoia National Park, Hanford, Lemoore
Signed as exits 96 (east) and 97 (west) northbound
98A
Avenue 304 – Goshen
Northbound exit and entrance
98A
Avenue 304
Southbound exit and entrance
40.79
98B
Betty Drive (CR J32)
106A
Traver
Northbound exit only
48.71
106B
Merritt Drive (CR J36) – Traver
Signed as exit 106 southbound
51.81
109
Avenue 384 (CR J38) – Woodlake
R53.82
111
Road 12; 18th Avenue
Fresno

FRE R0.00-31.61

Kingsburg
R0.95
112
SR 201 east (Sierra Street) – Kingsburg
R2.06
114
Bethel Avenue, Kamm Avenue
R3.74
115
Mountain View Avenue (CR J40) – Caruthers, Dinuba
Selma
R5.32
117
Second Street
6.43
118
SR 43 south (Highland Avenue) / Floral Avenue – Hanford, Corcoran
Fowler
9.16
121
Manning Avenue – Parlier, Reedley
11.10
123A
Merced Street
Signed as exit 123 northbound
11.84
123B
Adams Avenue
Southbound exit and northbound entrance
12.40
124
Clovis Avenue
14.51
126
American Avenue
Southbound exit and northbound entrance
15.49-

15.86

127
Central Avenue, Chestnut Avenue
16.93-

17.26

128
Cedar Avenue, North Avenue
Fresno
18.54
130
Jensen Avenue
Former SR 41 south
19.29
131
SR 41 north (Yosemite Freeway) – Yosemite
Northbound exit and southbound entrance
19.29
131
SR 41 south (Yosemite Freeway) – Lemoore, Paso Robles
Northbound exit is via exit 130
20.19
132A
Ventura Street, Kings Canyon Road
Former SR 180 east, earlier SR 41
20.74
132B
Fresno Street – Civic Center
21.01
133A
Stanislaus Street
Southbound exit and northbound entrance; former SR 180 west, earlier both directions
22.16
133
SR 180 (Sequoia-Kings Canyon Freeway) – Mendota, Kings Canyon
Signed as exits 133A (west) and 133B (east) southbound
22.74
134
Belmont Avenue – Pine Flat Dam
23.30
135A
Olive Avenue
Signed as exit 135 southbound
23.85
135B
McKinley Avenue
Northbound exit and southbound entrance
24.42
136A
North Golden State Boulevard, Clinton Avenue
Signed as exit 136 northbound
136B
Princeton Avenue
Southbound exit and entrance
25.00
137A
Shields Avenue
Southbound exit and entrance
137B
Dakota Avenue
Southbound exit only
26.22
138A
North Golden State Boulevard
Northbound exit and southbound entrance
26.55
138B
Ashlan Avenue
Signed as exit 138 southbound
28.10
140
Shaw Avenue
30.48
142
Herndon Avenue, Grantland Avenue
Northbound entrance is via exit 143
30.99
143
Herndon Avenue (Golden State Boulevard)
Southbound exit and northbound entrance
Madera

MAD 0.00-29.36

R0.99
144
Avenue 7, Road 33
R3.56
147
Avenue 9, Road 30½, Road 31½
R7.46
151
Avenue 12, Road 29
152
Almond Avenue
Southbound exit and entrance
9.49
153A
Gateway Drive (SR 99 Bus. north) – Madera
Northbound exit only
Madera
10.27
153B
SR 145 (Madera Avenue) – Kerman, Firebaugh, Yosemite
Signed as exit 153 southbound
11.01
154
Fourth Street – Central Madera
12.13
155
Cleveland Avenue – Millerton Lake, Yosemite
12.75
156
Avenue 16, Gateway Drive (SR 99 Bus. south) – Madera
R14.22
157
Avenue 17
R16.33
159
Avenue 18½, Road 23
R18.68
162
Avenue 20, Avenue 20½
164
Road 20, Avenue 21½
Califa
22.73
166
SR 152 west – Los Banos, Gilroy
Northbound exit is on the left; no northbound entrance
23.77
167
Avenue 24
24.43
168
Avenue 24½
No access across SR 99
26.58
170
SR 233 (Robertson Boulevard) / Avenue 26 – Chowchilla
28.17
171
Road 15 – Le Grand
North end of freeway
Merced

MER 0.00-R37.30

South end of freeway
Merced
185
Mission Avenue, Campus Parkway
13.09
186A
Childs Avenue, Motel Drive
13.86
186B
SR 140 east – Mariposa, Yosemite
South end of SR 140 overlap
14.08
186C
16th Street (SR 99 Bus. north)
Northbound exit only; southbound entrance is via Exit 186B
14.41
187A
G Street
Northbound exit and southbound entrance
14.69
187B
SR 59 south (Martin Luther King Jr. Way) – Downtown Merced, Los Banos
South end of SR 59 overlap
15.80
188
SR 59 north (V Street) / SR 140 west / R Street
North end of SR 59 / SR 140 overlap
16.54
189
16th Street (SR 99 Bus. south)
No northbound exit
18.51
191
Franklin Road
Northbound exit and entrance
20.52
193
Buhach Road – Castle Airport
21.61
194
Atwater (Atwater Boulevard, SR 99 Bus. north)
Northbound exit and southbound entrance
Atwater
22.76
195
Applegate Road – Winton
23.46
196
Atwater (Atwater Boulevard, SR 99 Bus. south)
Southbound exit and northbound entrance
198
Bellevue Road, Westside Boulevard (CR J18)
200
Liberty Avenue, Sultana Drive
Livingston
R29.00
201
Hammatt Avenue
R30.38
203
Winton Parkway
R31.93
204
Collier Road
206
South Avenue
R34.43
207
Shanks Road – Delhi
208
Bradbury Road
R36.34
209
Golden State Boulevard (SR 99 Bus. north)
Northbound exit and southbound entrance
Stanislaus

STA R0.00-R24.75

Turlock
R1.63
211
SR 165 (Lander Avenue, CR J14) – Central Turlock, Los Banos
R3.45
213
West Main Street (CR J17) – Patterson, Central Turlock
R4.54
214
Fulkerth Road
R5.64
215
Monte Vista Avenue – Denair
R6.75
217
Taylor Road (SR 99 Bus. south)
R7.81
218
Keyes Road (CR J16) – Keyes
Ceres
R10.04
220
Mitchell Road
221
Fourth Street
No southbound exit
R11.91
222
Whitmore Avenue – Hughson
Modesto
R13.26
223A
Hatch Road east
R13.35
223B
Hatch Road west
R13.90
223C
South 9th Street
Southbound exit is part of exit 223; Former US 99 north
R14.47
225A
Crows Landing Road
R15.10
225B
Tuolumne Boulevard, B Street
R15.75
226A
Downtown Modesto
Signed as exit 226 northbound
R16.12
226B
SR 108 / SR 132 (Maze Boulevard) – Vernalis
Northbound exit is via exit 226
R16.83
227
Kansas Avenue
M18.52
229
Carpenter Road, Briggsmore Avenue
R20.22
230
Beckwith Road, Standiford Avenue
R21.74
232
Pelandale Avenue
Salida
R22.56
233
SR 219 (Kiernan Avenue) / Broadway – Salida, Riverbank
R24.27
234
Hammett Road
San Joaquin

SJ 0.00-38.78

Ripon
0.89
236
Ripon
1.71
237A
Milgeo Avenue
Northbound exit and entrance
2.37
237B
Jack Tone Road
Signed as exit 237 southbound
4.89
240
Austin Road
Moffat Boulevard
Closed; former northbound left exit
5.82
241
SR 120 west to I-5 – Manteca, San Francisco
South end of SR 120 overlap
Manteca
6.65
242
SR 120 east (Yosemite Avenue) – Sonora
North end of SR 120 overlap
8.83
244A
Manteca (Main Street)
Southbound exit and northbound entrance
9.18
244B
Lathrop Road
11.47
246
French Camp Road (CR J9)
248
Frontage Road
No access across SR 99
Stockton
250
Arch Road
251
Clark Drive
Northbound exit and entrance
16.70
252A
Mariposa Road (CR J7, SR 99 Bus. north, SR 4 Bus. west) – Escalon
Former US 99 north
17.22
252B
SR 4 east (Farmington Road) – Angels Camp
South end of SR 4 overlap; former SR 4 west
Stockton
18.02
253
Charter Way (Dr. Martin Luther King Jr. Boulevard)
No northbound exit; former SR 26 west
18.15
253
Main Street
Northbound exit only
Stockton
18.68
254A
SR 4 west to I-5, Downtown Stockton, San Francisco
North end of SR 4 overlap
19.29
254B
SR 26 east (Fremont Street) – Linden
20.34
255
SR 88 east (Waterloo Road) – Jackson
20.88
256
Cherokee Road
21.67
257A
Wilson Way (SR 99 Bus. south) – Downtown Stockton
Southbound exit and northbound left entrance; former US 50 west / US 99 south
21.91
257B
Frontage Road
Closed
22.92
258
Hammer Lane (CR J8)
24.03
259
Morada Lane
25.42
260
Eight Mile Road
27.50
262
Armstrong Road
28.48
263
Harney Lane
29.00
264A
Lodi (Cherokee Lane, SR 99 Bus. north)
Northbound exit and southbound entrance; former US 50 east / US 99 north
Lodi
29.50
264B
SR 12 west (Kettleman Lane) – Fairfield
South end of SR 12 overlap; signed as exit 264 southbound
30.97
266
SR 12 east – Central Lodi, San Andreas
North end of SR 12 overlap
31.58
267A
Turner Road – Lodi (Cherokee Lane, SR 99 Bus. south)
Former US 50 west / US 99 south
31.72
267B
Frontage Road
32.57
268
Woodbridge Road
33.57
269
Acampo Road
34.58
270
Peltier Road (CR J12)
35.60
271
Jahant Road
36.67
272
Collier Road
37.83
273
Liberty Road, Frontage Road
Sacramento

SAC 0.12-36.86

Galt
0.33
274A
Crystal Way, Boessow Road
Northbound exit and entrance
0.33
274A
Fairway Drive
Southbound exit and entrance
0.79
274B
C Street – Central Galt
1.57
275A
Elm Avenue, Simmerhorn Road (CR J10)
1.88
275B
Pringle Avenue
Southbound exit and entrance
275B
Ayers Lane
Northbound exit and entrance
2.70
276
Walnut Avenue
No access across SR 99
3.53
277
SR 104 east (Twin Cities Road, CR E13) – Jackson
4.39
278
Mingo Road
Northbound exit and entrance
4.39
278
West Stockton Boulevard
Southbound exit and entrance
6.01
280
Arno Road
7.36
281
Dillard Road
8.96
283
Eschinger Road
Southbound exit and entrance
Elk Grove
10.07
284
Grant Line Road (CR E2), Kammerer Road
12.76
286
Elk Grove Boulevard (CR E13)
13.84
287
Laguna Boulevard, Bond Road
14.87
288
Sheldon Road
Jacinto Road
Closed; former southbound exit and entrance
Sacramento
15.90
289
Cosumnes River Boulevard, Calvine Road
17.24-

17.66

291
Stockton Boulevard, Bruceville Road, Mack Road
Signed as exits 291A (Mack Road east, Bruceville Road) and 291B (Mack Road west) southbound; Stockton Boulevard was former US 50 east / US 99 north
19.61
293
Florin Road
Signed as exits 293A (east) and 293B (west)
20.86
294
47th Avenue
Signed as exits 294A (east) and 294B (west)
21.57
295
Martin Luther King Jr. Boulevard
Northbound exit and southbound entrance
Sacramento
21.94
296
Fruitridge Road
Northbound exit to Fruitridge Road east is via exit 295
23.13
297
12th Avenue
24.19
298B
Broadway
Northbound exit and southbound entrance; Former US 50/US 99
R24.35

0.00[[|[N 1]]]

298A
I-80 Bus. west (Capital City Freeway) / US 50 (El Dorado Freeway) to I-5 / SR 99 north – San Francisco, Placerville, South Lake Tahoe
Northbound exit and southbound entrance; former I-80 west
0.24[[|[N 1]]]
6C
T Street
Northbound exit and southbound entrance
I-80 Bus. east (Capital City Freeway) – Reno
Northbound exit and southbound entrance; former I-80 east
Gap in SR 99
R32.12
306
I-5 to SR 99 south – Sacramento, Woodland, Redding
Southbound exit and northbound entrance; signed as exits 306 (north) and no number (south)
33.36
307
Elkhorn Boulevard (CR E14) – Rio Linda
North end of freeway
35.37
Elverta Road
Sutter

SUT 0.00-42.39

0.95
Riego Road
5.81
316
Howsley Road – Pleasant Grove
Interchange
R8.07
319
SR 70 north – Marysville, Oroville
Interchange; northbound exit and southbound entrance
Striplin Road to SR 70 north – Marysville
11.98
Nicolaus Avenue – Nicolaus[[|[34]]]
Interchange
20.99
SR 113 south – Woodland
27.65
Bogue Road
28.67
Lincoln Road
Yuba City
29.67
Franklin Road
30.03
Bridge Street
T30.63
SR 20 (Colusa Avenue) – Colusa, Yuba City, Marysville
South end of freeway
R31.31
342
Queens Avenue
R33.95
344
Eager Road
North end of freeway
Butte

BUT 0.00-45.98

Gridley
2.79
East Gridley Road, Magnolia Street
7.69
B Street, Biggs East Highway – Biggs, East Biggs
11.16
SR 162 west – Butte City, Willows
South end of SR 162 overlap
13.16
SR 162 east / Richvale Road – Oroville
North end of SR 162 overlap
South end of freeway
21.81
SR 149 south to SR 70 – Oroville, Marysville
Left exit southbound and left entrance northbound
23.86
376
Butte College, Durham
Short gap in freeway
Chico
R30.60
383
Park Avenue, Skyway – Paradise
R31.50
384
East 20th Street
R32.45
385
SR 32 – Chester, Orland
R33.28
386
East First Avenue
R34.25
387A
Cohasset Road, Mangrove Avenue
R34.93
387B
East Avenue
R36.31
389
Eaton Road
North end of freeway
Tehama

TEH 0.00-24.94

4.49
CR A9 (South Avenue) to I-5 – Corning
Los Molinos
12.31
Aramayo Way – Tehama, Gerber
24.94

SR 36 (Antelope Boulevard) – Lassen National Park, Susanville

1.000 mi = 1.609 km; 1.000 km = 0.621 mi

Concurrency terminus • Closed/Former • Incomplete access • Unopened